Our Purpose
VOCF exists to end physical and spiritual hungers worldwide.
Our Pillars of Service
VOCF adds value to its members with four pillars of service.
Training.  VOCF's primary service is training on personal, leadership, and community transformation.
Connection.  VOCF connects members and like-minded, global partners to inspire and learn from one another.
Member Projects.  VOCF provides opportunities for donors to give directly to members.
Farming VOC/National Worker Support.  Our anchor program for members to share with other members aims to help every community grow more of its own food, think with new mindsets, prosper, and share.
Our Story
VOCF's story begins with Food for the Hungry's story.  Food for the Hungry was founded in 1971 by Dr. Larry Ward. His dream was to create an organization solely dedicated to ending physical and spiritual hungers. The 1970's emphasized emergency relief and refugee assistance. His compassion for the hungry and poor was captured in his frequent exhortation, "people die one at a time, we can save them one a time".
In the 1990's, a multi-national team of FHI leaders created a definition of success at a community level, called "Vision of Community" (VOC).  The definition emphasized a community-led process that enabled communities to become self-sustaining without long-term assistance.
In 2006, FHI multiplied into two groups with the same overall mission: FH and FHIF.  Also in 2006, the idea of VOC went from being FHIF's method to also having an organization fully dedicated to promote it.  VOCF, Inc was established in the USA and became a member of FHIF.  The primary focus of VOCF was training FHIF leaders and workers about VOC.
In 2020, it was recognized that the idea of VOC was a key "glue" that held FHIF members together.  Also, the FHI-named organizations had different needs FHIF members who were not named FHI.  For that reason, it was decided that VOCF would become the overall umbrella as shown below.
Our Organizational Design
VOCF is a fellowship of like-minded organizations. We are not a VOC Federation, VOC International, or VOC Association.  VOCF's design is "organic", horizontal, and held together by our core identity, shared goal of VOC and 4 services.  FHI named members retain their identity and special interests of FHIF.  We also connect to a global community.  These are not official members, but are typically informal groups attracted to our approach or people who have gone through our New Nations training.
Our Global Executive Team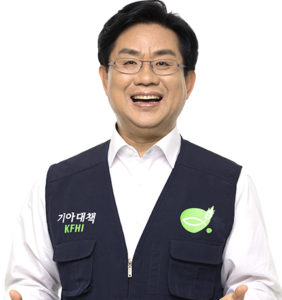 Wonsik Yoo
Wonsik Yoo is the President of Korea Food for the Hungry International (KFHI).  He previously was the President of Sun Microsystems and Oracle in Korea.
Seike Hirohisa
Seike Hirohisa is the chairman of Japan International Food for the Hungry.  He has led many of FHIF's efforts in disaster relief responses throughout the world.
Randall Hoag
Randall Hoag has 34 years of experience in international relief and development. He served in Bolivia and Thailand.  He is also the President of Vision of Community Fellowship.
Funding and Accountability
VOCF has a simple and efficient financial design because it does not consolidate the funds or accounts of it's members.  Each VOCF member is an autonomous organization that gives grants directly to its projects.
VOCF, Inc is a 501.c.3 organization (EIN 20-5874204) in the USA and exists to serve VOCF's Global members.  Funding for VOCF, Inc management comes from member fees, self-supporting staff, and a maximum 5% fee on donations. For many years, VOCF charged zero % on donations and always strives to find ways to keep administration costs low.
VOCF's accounting and donor-care is outsourced to TenFold BPO which specializes in non-profit organizations.